---
Instax Link WIDE
---

---
Live Life WIDE
This is it. The exclusively inclusive instax Link WIDE printer has landed. Creating the largest prints in the instax lineup, this wide-format 'must-have' is the smartphone printer that gets everyone in.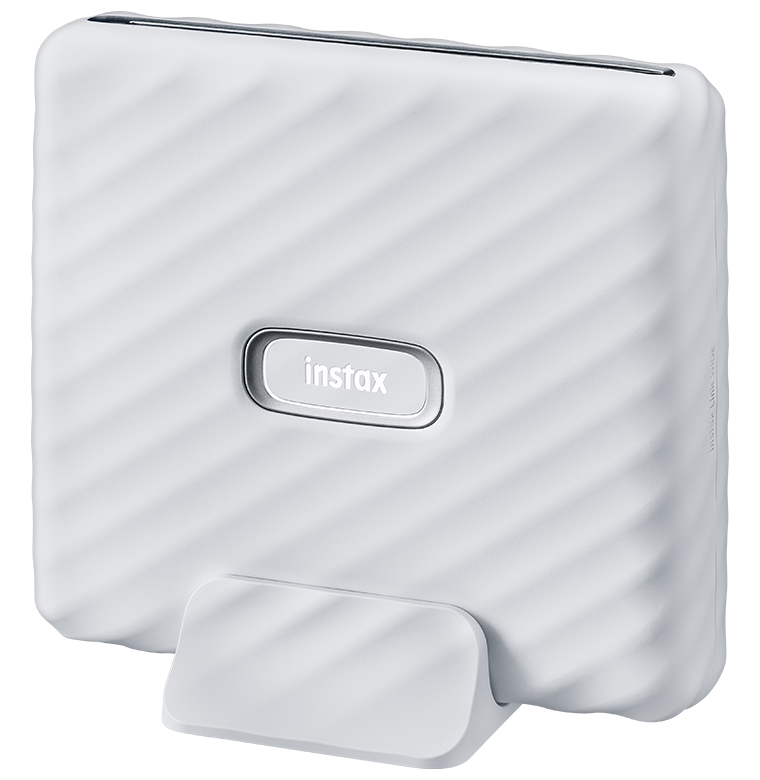 Ash White
Ash White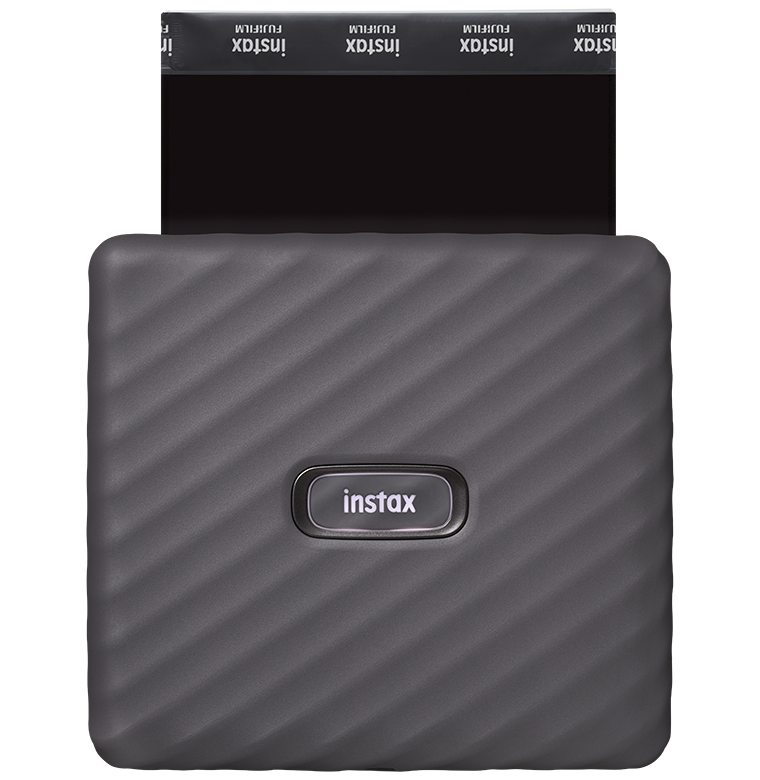 Mocha Gray
Mocha Gray
Real friendships deserve WIDE moments
In our opinion, the 'fullness' of every moment should be captured for all to see. That's why we say print it WIDE. Overflowing with features that ensure nothing is lost, the Link WIDE lets you relive the buzz, again and again.
And via the app, beautifully framed WIDE prints can be enriched with colour, enhanced with QR messages and even personalised with sketches. Ready to spread the love, WIDE?
FEATURES
---

SIMPLE PRINT
SUPERCHARGED SIMPLICITY
You're on! Sharing moments together couldn't be easier. Via the Link WIDE app, select the image you want to print and do your thing.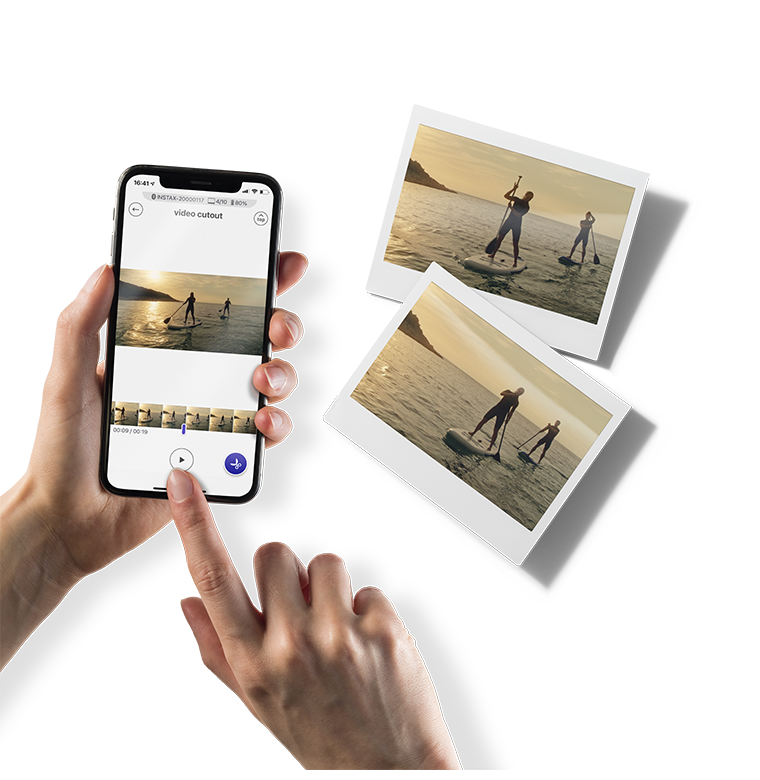 VIDEO PRINT
AND PAUSE...
Set your memories in motion free with the Link WIDE app. Scroll through your favourite videos, select the perfect moment, then print them WIDE.
COLOR MODES
CHOOSE YOUR LOOK
Choose instax Rich for all the colour or instax Natural for a classic feel – two very different colour outputs, two distinctive ways to inject vibrancy into memorable moments before printing them instantly onto WIDE film.
MULTI-PRINT
SHARE AND SHARE ALIKE
First rule of friendship? Nobody gets left out. With the Link WIDE, swipe up to print and decide just how many copies you want. The more you add, the more mementos of the good times you'll have to share with your friends.
QR MODES
---

LINK TO WEBSITE
GIVE THE PERFECT RECIPE
Add flavour to your pictures by including a scannable QR code - flawlessly linking your sous-chef in the making to the URL of your choice.
RECORD A SOUND
GIVE A LAUGH
You know what they say - laughter is the best medicine. Pop into the 'Record a sound' mode, capture a sound, add it to your snap, then scan to listen.
LOCATION PRINT
GIVE A SECRET LOCATION
Meet you at…pinpoint a location of your choice, then hide it in a printable QR code. Will your friends scan, discover and seek out your secret location?
HIDDEN MESSAGE
GIVE A SECRET MESSAGE
Invisible ink pens? How about a hidden message QR mode? Simply write a secret message, then print it as a QR code ready to scan and read.
GET CREATIVE
---

EDITABLE TEMPLATES
A SENSE OF OCCASION
With over 30 editable templates to play with, you can find your inspiration, capture it, make your edits, add words, take a snap for your background, hit print and share.
SKETCH, EDIT & PRINT
PLENTY TO SEE HERE
Bring out your creativity with a spot of sketch and scan. Grab a pen, make your mark, capture it in-app with your smartphone and watch as the app cuts your sketch out. Then splash it across your photos, edit and print.
COLLAGE PRINT
MORE THE MERRIER
Good things come to those that go WIDE – fully loaded prints that you can share, or keep for your fridge door. Because seeing more of what matters is a must.
STICKERS
SAY IT WITH STICKERS
With over 1,600 in-app stickers available to pop on your photos there's even more ways to add personality to your prints, with none of the stickiness.
---
SPECS
---

Recording method
3-color exposure with OLED
Film
FUJIFILM Instant Film "instax WIDE" (Purchased separately)
Number of photos
10 photos/pack
Image size
62 mm x 99 mm
Supported image size
800 x 1260 dots
Printing resolution
12.5 dots/mm (318 dpi)
Printing levels
256 levels per colour (RGB)
Interface
Standard compliance: Bluetooth Ver. 4.2 (BLE)
Supported image format
JPEG, PNG, HEIF, DNG
Printing time
Image recording - photo output (fed out):
Approx. 12 sec.
Approximate
printing capacity
Approx. 100 prints*
(from full charge)
* The number of prints depends on the usage conditions.
Power supply
Lithium ion battery (internal type: not removable)
Charging time
Approx. 80 to 120 minutes (Charging time depends on the temperature and remaining battery level)
Power consumption
Approx. 3W
Operating environment
Temperature: +5°C to +40°C Humidity: 20% to 80% (no condensation)
Main unit dimensions
139 mm × 127.5 mm × 33.7 mm (excluding projecting parts)
Main unit mass
Approx. 340g (excluding film pack)
Supplied accessory
USB cable (BOB700-101, Length: 30cm) Stand (1), Strap (1)
---